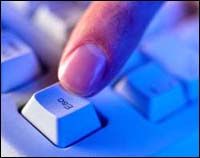 Below you'll find a compilation of answers to questions we commonly hear from customers. If you cannot find what you're looking for, please don't hesitate to contact us. We want you to have the information you need to get the final result you want.
How do I go about getting an estimate from you?

Simply use our online estimate request form by clicking here. Otherwise, the best way to ensure that we get all the information necessary to do an accurate quote is to give us a ring and speak with one of our customer service representatives.

How long will it take for you to complete my order?

Every job is different. Some jobs can be produced in minutes while some may take several days to complete. Let us know when you need your job completed and we'll let you know if it can be done. We go to great lengths to meet even your most demanding timelines.

What is the best file format for submitting a document for printing?

The Portable Document Format (PDF) is generally the preferred file format for submitting a document for printing as it works with virtually all professional printing and digital output devices. By design, a PDF file incorporates the information needed to maintain document consistency from system to system. Most other file formats such as Adobe InDesign, Illustrator and Microsoft Word are easily converted to PDF format.

What is a proof and why is it needed?

A proof is a one-off copy of your printed document used for visual inspection to ensure that the layout and colours of your document are exactly how they are intended to be. A proof is made prior to sending the document to the press for final printing.

Typically, we will produce a proof that will be sent to you online in PDF format or on printed paper, which can be either viewed in our store or delivered to you in person. For multiple-colour jobs, we can produce a proof on our output device to show you how the different colours will appear on the final product.

Your approval on the final proof is the best assurance you have that every aspect of our work and your own is correct, and that everything reads and appears the way you intended. Mistakes can and sometimes do happen. It benefits everyone if errors are caught in the proofing process rather than after the job is completed and delivered.

What does "print ready" mean?

In the digital age of printing, it means that an image file submitted for printing is ready to be transferred to the printing plates without any alterations.

What is colour separation?

Colour separation is the process of separating a coloured graphic or photograph into its primary colour components in preparation for printed reproduction. For example, to print a full colour photo with an offset printing press, we would create four separate printing plates each accounting for one of the four basic printing inks (cyan, magenta, yellow, and black) needed to reproduce the image.

As the paper is fed through the press, each single-colour plate puts onto the paper the exact amount of ink needed at exactly the right spot. As the different coloured wet inks are applied, they blend together to create the rich and infinite pallet of complex colours needed to reproduce the original image.

What are the most common sizes for catalogues and booklets?

Standard sizes for catalogues and booklets are A6 (105mm x 148mm), A5 (148mm x 210mm), A4 (210mm x 297mm) and DL (99mm x 210mm).

What are the most common sizes for brochures?

Standard finished sizes are A5 (148mm x 210mm), A4 (210mm x 297mm), and DL (99mm x 210).

What are the most common business envelope sizes?

Envelopes have a size reference system to allow them to accommodate certain sheets. The most common of which are C4 (to hold A4 paper), C5 (to hold A5 paper), C6 (to hold A6 paper) and DL (to hold a sheet folded to compliment slip size (99mm x 210mm).

Window and non-window envelopes are available in finishes to match many papers. Wallet envelopes have their opening on the long edge, pocket envelopes on the short edge.